"It is not the answer that enlightens, but the question." - Eugene Ionesco
Twenty seven years ago, after watching a televised debate evolve from "disrespectful to angry to chaotic," Laura Chasin asked a brilliant question. Posed to her family therapist colleagues at the Family Institute of Cambridge, Laura asked in essence: "Could the same methods that help families have safe, constructive conversations in counseling sessions also help people talk with each other in situations where there are deep differences in identity, beliefs, and values?"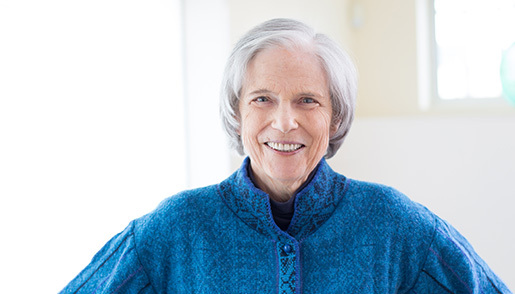 Drawing on the wisdom generated in years of therapy practice, Laura founded the Public Conversations Project in 1989 - a creative effort to foster "constructive conversation where there is conflict driven by differences in identity, beliefs, and values."
It was only a few years later, in 1994, that two murders occurred outside of Boston area abortion clinics. At the request of Massachusetts governor, Laura joined Susan Podziba to bring together pro-choice and pro-life leaders for confidential conversations. Originally planned for a handful of meetings over a short time, these secret talks ended up lasting six years and 150 hours of meetings. Although these leaders remained "firmly committed to their stance on abortion," the respect, understanding and friendships that formed led to each side taking action to "reduce the violence in the rhetoric used by their organizations and to protect against recurring violence." This included the pro-life side dis-inviting an inflammatory right-wing speaker to a Boston speaking engagement.
A 2001 feature on the project in the Boston Globe called "Talking with the Enemy" received thousands of letters and emails from around the world expressing support and hope because of their efforts.
As PCP's Executive Director, Parisa Parsa described Laura, she moved "bravely into uncharted territories with a unique curiosity about every person she met" - evincing a "generosity of spirit and true grace" which "opened up space for the minds and hearts of others in any gathering." Sandy Heierbacher, Director of the National Coalition of Dialogue & Deliberation called "a pillar of the dialogue & deliberation field."
Laura passed away unexpectedly last week, on Tuesday November 17th.
As cited in PCP's own announcement, Laura was graduate of Bryn Mawr College, with masters degrees in Government from Harvard and social work from Simmons College, Laura's interests spanned political science, social work, psychodrama, family systems therapy, dialogue, and transpartisanship. In later years, Laura completed extensive post-graduate training in marital and family therapy in conjunction with a private psychotherapy practice.
Over the years, Laura has led Public Conversations to become a national leader in facilitated dialogue on a wide range of divisive issues, including same-sex marriage, immigration, abortion, diversity, guns, and the Israeli-Palestinian conflict. PCP has worked on dozens of issues on four continents - and even extending its teaching into the virtual world. They have received awards by the New York State Mediators Association, the American Association of Group Psychotherapy and Psychodrama, the American Family Therapy Association, and the American Society of Professionals in Dispute Resolution. Recently, Laura and her husband Dick were honored by the New York State Dispute Resolution Association.
In the field of dialogue and deliberation, Laura is widely known and deeply respected for a foundational guide to dialogue that she produced with Founding Associate Maggie Herzig, Fostering Dialogue Across Divides: A Nuts and Bolts Guide from The Public Conversations Project.
Laura previously served on the boards of the Rockefeller Family Fund, the Rockefeller Brothers Fund, and Spelman College. She has also served on the boards of the Children's Defense Fund, the Conflict Management Group, and the Institute for Faith and Politics, and on the steering committee of the Common Ground Network for Life and Choice. Deeply passionate about the transpartisan movement, Laura also worked closely with No Labels and other organizations that encourage collaboration across the aisle.
Since first encountering Public Conversations Project myself at a National Coalition of Dialogue & Deliberation event nearly ten years ago, I have been inspired and motived by their work. Seven years ago, Laura offered specific encouragement to me in my interest bringing together people across secular and spiritual divides - with a unique grandmotherly energy that left me feeling both loved and hopeful about the future of this work. Laura and Public Conversations Project have also supported and encouraged others in the field in allied efforts, including our own work at Living Room Conversations.
And just two months ago, Phil Neisser and I were invited to participate in Public Conversations' annual celebration of dialogue called "Nourish". Prior to the event, I received a note from Laura, "Now that I have both your emails, the prospect of seeing you both tomorrow has become delightfully real. I took advantage of my role to seat myself right in the middle of you for dinner so we can have had some conversation before we need to appear before the group."
In addition to inspiring us, Laura loved us truly. In a day when many individuals who make little to no contribution to the world are showcased in death, a peace-making giant such as Laura Chasin should be truly celebrated. This woman, as Parisa Parsa summarized, "lived with a vision of transforming fractured relationships, communities, and politics through the intentional, careful work of communication."
May our fractured, wounded, divided society pause this week - taking away a little hope from the astonishing work and example of Laura Chasin.
Author: Jacob Hess, Living Room Conversations Partner; Director, Village Square Salt Lake City.
After meeting while praying on the sidewalk of an abortion facility, Edward Garcia, a single father of two, and I, a single mother of two, quickly realized the Lord wanted us together for something more than just ministry. Our relationship grew with Christ being the center. As individuals that had already been actively serving in several ministries for many years, were now put together to serve as one. In May 2015, we married with close family and friends to witness the miracle that second chances really do exist. It was apparent in our day to day lives since we met that the Lord had His hand in our relationship, putting everything in place.
By the end of June, we received a beautiful blessing – we were pregnant! What a feeling, to know that we were going to be able to have a child together and experience every step together! We were so happy that the Lord chose us to have another child. Our kids were excited that there would be a new sibling in the house, and as we shared the news with friends and family, all were happy to share in our joy.
Edward and I decided we wanted our other children to experience every part of this pregnancy; we wanted to deliver our baby in a birthing center or at home. We wanted our four children and our parents to be there to experience the birth of our baby. Delivering in a hospital would not allow us to do this, as only two visitors are allowed in the room at once. In our search for a birthing center, we came to find out that they would not do a sonogram so we scheduled one elsewhere and took our children to see their new sibling.
It was a glorious Friday afternoon for us all to experience seeing our precious baby safely in my womb, heart beating, and lots of movement. They gave us pictures and a due date of February 2016. Our newly blended family was happy in anticipation of our newest addition. This new blessing brought us all closer, and we were excited that we all were going to share in this experience together as a family.
During our appointment, I mentioned I was feeling extremely bloated. They told me they would consult with the doctor. That evening we received a call notifying us that the doctor wanted to take a closer look on Monday morning.
Monday morning, more sonograms were done only to find that I had a Complex Ovarian Cyst, measuring about 10 cm. It was now no wonder why my stomach looked like I was 5 months pregnant, when I was only 7 weeks. It was recommended that we not go through a birthing center for prenatal care. In addition, we were instructed to consult with not only an OBGYN who specialized in high risk pregnancies but also an oncologist for further treatment. Leaving this difficult news in the Lord's hands, we began our search for doctors, having the faith that it would all be okay. Prenatal checkups went well. The challenge we faced was that I would not get to see the oncologist until the end of August. I was feeling good, just experiencing the normal morning sickness.
The morning of August 2nd, now 13 weeks pregnant, I woke up with a pain that I hadn't felt before. I got up and within 30 minutes I was in tears, realizing this was not going away. We headed for the ER. They gave me all sorts of pain medicine but nothing was working. The cyst had twisted my ovary and needed to come out immediately before causing further damage. We were reassured that the baby would be safe and I would still be able to deliver naturally when the time came. By 3 pm, I was on the operating table as they checked the baby through sonogram. Now perfectly formed, the baby was bouncing away, showing momma a strong heartbeat. They ended up removing the cyst, now 15 cm, as well as the ovary. Before being discharged two days later, we made sure that they checked on our baby. This was challenging since there were 20 staples above where the sonogram machine would check the baby. They found the heartbeat, leaving us at ease and happy we were going home.
August 17th, now 15 1/2 weeks pregnant, we went in for a follow-up visit. I had been recovering slowly but surely. The checkup went well, and the baby's heartbeat was faint but still beating. We felt it was slower than usual but the doctor said everything was fine.
On August 18th, I had a little bit of discharge which was normal considering that I had just had major surgery. August 19th, I woke to find that I was spotting blood. After a few hours, I was having cramps. I notified my husband and called the doctor and waited for a call back. My husband arrived by noon to the house to find me laying on our bed holding my stomach. I told him something wasn't right. We decided not to wait for the doctor to call and headed to the ER.
They examined me and performed a sonogram, where we could see that something was wrong. My womb looked different. We asked to hear the baby's heart and were told we had to wait for the doctor.  Our hearts sank. They took us back to our room as we waited for the doctor to come tell us what we already knew in our hearts. It seemed like forever. My husband sat next to my bed holding my hand as we hoped for a miracle.
Finally, the doctor came in. "I'm sorry," he said, "We were unable to detect a heartbeat." Our hearts were immediately broken. We loved this baby from the moment we found out we were pregnant. A numbness came over me. Our OBGYN called and asked us to come in the next day.
We got home and told our kids the baby had passed away. A sadness filled our home. The joy and anticipation of having a baby came to a sudden end. Our faith shows us that through the good and bad, all things happen for a reason. We prayed that the Lord would reveal this to us and fill us with His peace.
All night I thought maybe there was a chance the baby was still alive. We had read testimonies of how no heartbeat was detected but then later it was detected. Maybe this would be the case, we thought. The following morning we went to the doctor and confirmed through another sonogram – no heartbeat. We could see our precious baby laying in my womb as if peacefully sleeping. The doctor said we could have a D&C but our baby would not be removed in one piece, and the hospital would send our baby's body to the lab. We knew that a D&C is one of the ways in which abortions are performed. We also knew we wouldn't be able to lay our baby to rest, whole, in a dignified burial with this option. Our other option would be to wait until my body naturally delivered the baby. The doctor said this could take weeks and labor could take all day and that I could hemorrhage. But as we knew this option would deliver our baby intact, we chose this option.
At 6 pm that day, the contractions began. My husband notified our parents and prepared the bed. Every two minutes my body was contracting. I lay down and went through each contraction trying to prepare for what we were about to experience – my father holding one hand leading us in a prayer called "The Divine Mercy,"  my mother at the foot of the bed, and my beloved husband holding the other hand as we looked into each other's eyes with sorrow. The time to push came quickly.
At 7:52 pm, we delivered our precious and perfectly formed baby. My husband caught her and cut the umbilical cord that was the size of a string – so small, yet it was able to feed her all the nutrients needed since conception. My parents took her to our bathroom to bathe her. My husband stayed by my side and monitored me for complications. Once we knew we were out of danger, my husband and I got to hold our precious angel for the first time. She was absolutely perfect! She had everything – 10 fingers, 10 toes, lips, nose, ears, eyes, ribs, joints, brain, heart, lungs, etc.
We cried with sadness that we would never get to see her grow up, but within moments we were overcome by peace – a peace that only the Lord can provide.
Our kids came into our room to meet and at the same time say goodbye to their sister.  It was another opportunity the Lord used to unify us even more. My in-laws came over to see their grandbaby. As a family, we gazed at our precious baby girl, in awe of God's perfect creation.
The next few days we took time to plan a funeral, a Catholic mass where we were joined by all our close friends and family to honor our baby. The following day we had a burial, where even the cemetery groundskeepers stayed to witness, for the first time, a service for such a small baby. Going through the entire process as we did allowed us to give dignity to our baby but also allowed us to grieve and mourn, as God intended.
In a time when people debate whether or not this is a clump of tissue or a real human being, we know our daughter's passing will not go in vain. Not only was there a soul assigned the moment we conceived but there was an entire, complete body of a person who just needed more time to develop.
The Lord put in our hearts as soon as we knew that her heart had stopped beating that we needed to somehow share our life experience to glorify our Lord and bring healing, comfort and awareness to others. We share our pictures so all can see a perfectly formed human. Our society needs to be aware that businesses like Planned Parenthood are lying to parents by telling them their babies are just tissue, not showing them there is a beating heart and a baby who deserves a chance at life. This clearly confirmed to us that our pro-life ministry work is needed and crucial to save our brothers and sisters from being executed at the hands of abortionists who are in a money-making business.
Even at a young age of 16 weeks – 4 months – our baby completed her mission for God. She saved her momma from a cyst that was undetected but continuing to grow. She also brought awareness that we cannot continue to allow the abortion industry to murder the voiceless.
The Lord is perfect in all He does. During the good, the bad, and the ugly we choose to glorify Him. We ask that you pray for us and those who work in  pro-life ministry, that the Lord continue to give us strength and courage.
An anti-abortion petition in Oregon aims to strip the health-care procedure of state funding, with the potential to affect thousands of impoverished women each year.
The proposed ballot measure would limit state money for the procedure to cases of rape, incest, or medical necessity, similar to the federal Hyde Amendment.
The Oregon Health Authority covers abortion for women who typically make no more than $1,800 per month, a spokeswoman said. The Oregon Health Plan paid for 3,556 abortion procedures in 2013-2014, the most recent fiscal year for which data is available, at a total cost of nearly $1.8 million.
Jeff Jimerson, co-author of the petition and director of Oregon Life United, told RH Reality Check he doesn't want women to end their pregnancies on taxpayers' dime.
"We're not against paying for things that are good for the community, but the destruction of human life is not something I want to pay for, and many thousands of Oregonians don't want to pay for," Jimerson said.
On Friday, Oregon Life United announced in a statement it delivered 1,459 signatures to the Oregon Secretary of State, an early-stage requirement in the ballot process. The petition needs 117,578 signatures to go before voters in 2016.
Amy Casso, program manager of the Western States Center and the BRAVE Coalition, said the proposed measure would limit reproductive health access among the state's poorest.
"By denying coverage for abortion, we would be taking away a low-income individual's ability to make important personal decisions based on what is best for their circumstances," Casso said in a statement.
The number of abortions that the state has paid for is down from 2002, when 4,105 were covered.
Past attempts to get the measure on the the ballot fell short. Jimerson said they gathered about 98,000 signatures in 2014, and 72,000 in 2012.
According to the Guttmacher Institute, 32 states and the District of Columbia restrict state funding of abortion to cases of life endangerment, rape, and incest, although Oregon does not. The use of direct federal funds is illegal in all 50 states except in rare circumstances.
Reproductive health providers call the proposed initiative a "scam."
"The ballot measure sponsors seek to push their narrow political agenda of ending access to abortion," Mary Nolan, executive director of Planned Parenthood Advocates of Oregon, said in a statement. "This measure would unfairly penalize low-income Oregonian women seeking abortion."
«
[..]
[11]
[12]
[13]
[14]
[15]
[16]
[17]
[18]
[19]
[20]
[..]
»
Search